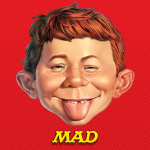 I interned at Mad Magazine during the summer of 2011 when I was in college, and admirably served as one of the "usual gang of idiots," as the famously self-deprecating staff frequently refers to itself. While at MAD, I helped pitch, write, and create several posts for its just-launched blog, the aptly named Idiotical, which usually published satirical takes on a current news story. I also helped write copy for the October 2011 issue, and wrote most of the responses to all the letters to the editor. Below are some of the best Idiotical pieces I had a hand in, as well as my later freelance submission to the magazine.
MAD 20 — Tiger Mom
Every year MAD does a countdown of the 20 dumbest things of the past 365 days. This past year one of the topics MAD had singled out as being worthy of mocking was Amy Chua, the Tiger Mom. I came up with an idea that recast the Tiger Mom as a communist Chinese propaganda poster. The final art was done by Juan Doe.
Alex Trebek Security System
In late July of 2011, Jeopardy! host Alex Trebek made the news when he injured himself while chasing a burglar our of his hotel room. MAD Magazine was eager to promote his security services.
The Rough Draft of Rupert Murdoch's Apology Letter
When the News of the World phone hacking scandal broke, Rupert Murdoch wrote an apology letter that convinced no one. MAD imagined what the rough draft of the letter must have looked like. I took the lead in writing this letter.
The Debt Ceiling
We combined the summer's two major showdowns; Harry Potter vs. Voldemort over the fate of the wizarding world, and Barack Obama vs. John Boehner over the raising of the debt ceiling. The inter-office debate over how much to photoshop Boehner's nose took up the better part of the day.
The Iowa Marriage Pledge
When two candidates for the 2012 Republican presidential nomination endorsed a pledge that promoted the sanctity of marriage with some favorable comparisons to slavery, MAD took the whitewashing of history to its logical conclusion.
Prison Porno
A prisoner's demand for pornography, and claim that it was a fundamental right that he was being denied, prompted us to think of some adult-video titles he probably could get away with. Profoundly immature I know, but I'd be lying if I said this wasn't one of the most fun days I've ever had at a job.