September 2014 — 2016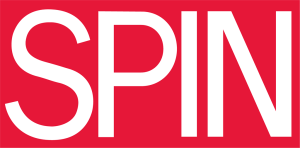 I joined the SPIN staff in September of 2014 as a staff writer during a period of major upheaval for the publication. At one point I was one of only four (very new, very young) editorial employees, and as a result I was heavily involved with rebuilding the site, helping to make big decisions with a small, dedicated team. I managed and edited SPIN's Listening In franchise, where we spoke to celebrities who aren't musicians about how music impacts their work.
In addition to writing around a half-dozen or more short news stories a day and a number of longer features and interviews, I used my art background to whip up any and all graphics we needed—in effect, designing the look of many reoccurring features and much of our year-end coverage. A selection of some of my most notable clips are below, but you can view almost everything I've written for SPIN on my author page.
The Sound and the Furry: Making a Psychedelic Muppet With Dan Deacon
A profile of Baltimore-based electronic composer Dan Deacon in anticipation of his latest album, 2015's Gliss Riffer. The interview was conducted at the flagship FAO Schawrz toy store in New York, where Deacon made a custom Muppet at the shop's Whatnot Workshop. Read the full piece here.
Kristian Nairn Won't Play 'Game of Thrones' Remixes When He DJs, But Thinks Hodor Would Listen to Dubstep
I spoke with Kristian Nairn shortly before the premiere of Game of Thrones' sixth season, and I got to know the actor behind Hodor. Although I wasn't able to get him to spill the beans about his characters' tragic demise halfway through the season, Nairn talked about balancing acting with his work as a DJ, and decided that Hodor would probably listen to dubstep because "he's a bit of an idiot." Read the full interview here.
'The People v. O.J. Simpson's' Sterling K. Brown Knows His '90s Hip-Hop But Listens to KIDZ BOP Nowadays
It's a crowded field, but Sterling K. Brown just might've been the breakout star from acclaimed series The People v. O.J. Simpson with his nuanced portrayal of prosecutor Christopher Darden. I called Brown up to talk about '90s hip-hop, race, and if the country would react differently to such a charged case today. Read the full piece here.
Q&A: Hrishikesh Hirway, the Musical Surgeon Behind the 'Song Exploder' Podcast
An interview with Hrishikesh Hirway, the host of the brilliant Radiotopia podcast Song Exploder. We talked about what he's learned about music from dissecting so many songs, and if any of them were ruined for him once he heard the behind the scenes story (none were). Thanks to this interview, SPIN struck up a relationship with the podcast, and we premiered the news that Björk was going to appear on his season finale. Read the full Q&A here.
RAC Is Enjoying the Singles Life in His Musical Second Act
A written-through piece on producer and remix-artist RAC and his plans to release a series singles following the release of his well-received debut LP of all original music. I spoke to RAC again after he was nominated for his first GRAMMY. Read the full piece here.
'Dinosaur Comics" Ryan North Has a Playlist for Squirrel Girl and Doesn't Understand Alvin & the Chipmunks
Ryan North is the writer behind Dinosaur Comics, a hilarious and dryly existential webcomic that's run the same art for every strip for a decade. He's also the writer of Marvel's The Unbeatable Squirrel Girl. I spoke with North about his listening habits while he works, our mutual ownership of a novelty Simpsons blues album, and why the disco-themed superhero Dazzler is still somehow relevant. Read the full interview here.
'The Walking Dead's' Emily Kinney On Surviving a Zombie Apocalypse and Writing Songs
An interview with Emily Kinney, one of the stars of AMC's The Walking Dead and folk singer-songwriter. This was the first interview I did for SPIN. Read the full piece here.
Dweezil Zappa Plays (His Own) Zappa for a Change After a Decade of Tributes
I spoke with Dweezil Zappa, who, after a decade of covering his genre-defying father Frank Zappa's genius body of work as the Zappa Plays Zappa act, released his first original album in as many years. We discussed the new record, Via Zammata, how he defines himself as an artist, and Frank's legacy. Read the full interview here.
Jukebox Jury: Lil BUB Lets Us Know Which Famous Feline Songs Are the Cat's Meow
I, uh, played a bunch of cat songs to Famous Internet Cat Lil BUB and recorded her responses for SPIN's Instagram as the most irreverent entry in our otherwise respectable Jukebox Jury series. I also had a real interview with BUB's owner, Mike Bridavsky, about "her" debut album. Read this craziness in full here.
Review: HOLYCHILD Are Insolent With a Purpose on Feisty Debut, 'The Shape of Brat Pop to Come'
An album review of Los Angeles brat pop duo HOLYCHILD's fantastic debut LP, The Shape of Brat Pop to Come. Read the full review here.
Review: Sufjan Stevens Sheds the Frills on the Deeply Personal 'Carrie & Lowell'
A review of Sufjan Steven's touching seventh album, Carrie & Lowell, a moving and deeply personal return to his folk roots following several, much more experimental electronic projects. Read the full review here.
Empire Season 2 recaps
I've been writing episode-by-episode recaps of musical soap opera phenomenon Empire's sophomore season — SPIN's first real foray into recapping. Read my summary and criticism of every episode, and watch the rails come off the season, right here.
'Weird Al' Yankovic's Many Costume Changes at Governors Ball 2015
A gallery of pictures (with full captions) I took of the master of parody's hilarious, possibly best-of-show set as the 2015 Governors Ball music festival. See all the pictures here.
Here's a Venn Diagram of the Overlap Between the Coachella, Bonnaroo, and Governors Ball Lineups
An infographic I made breaking down all the overlap between the lineup of three of the biggest music festivals in 2015 — Governors Ball, Bonnaroo, and Coachella. This Venn diagram was widely appreciated by the festival-going community. Read the full breakdown here.
Every Song From the New 'Fast and Furious' Soundtrack, Ranked By How Fast It Is
Every once in a while I got to do something really stupid, but funny. This ranking of every song on the Furious 7 soundtrack ranked by fastness (a simple analysis of each tracks' BPM) stands out as one of my greatest un-serious achievements. See the full list here.