(Phineas P. Wutterbottom III was a reoccurring character I wrote as for The Duel. A critic and snob with dubious credentials, he was at hand to review anything we wanted. Here is "his" take on the offerings of the Hamilton movie channel for the month of December)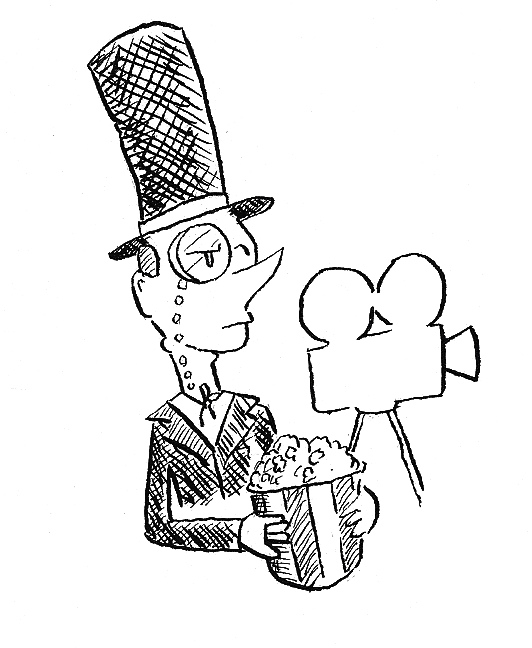 By Phineas P. Wutterbottom III
Hello again, plebeians! It is I, Phineas P. Wutterbottom, here to celebrate the miraculous return of the movie channel by rating this month's selection.
Many people say the December movies are a waste, because it's a short month, and people are too busy to watch movies. To them, I say, "tough titties," because we're getting the popcorn and starting the films!
Rush Hour – A decent movie, which only furthers my belief that all Asians are natural kung fu masters. On another note – what is Chris Tucker up to these days? I imagine he's dead from a coke overdose. One thumb up.
How the Grinch Stole Christmas – This is fantastic! Thank God it's not the live action remake. Did you know that the little girl who plays Cindy Lou Who now looks like a nightwalker? Two thumbs up/$500 for the whole night
Super 8 – An homage to the Spielberg alien movies of the 80's that's pretty good until it gets way too up its own ass with symbolism. (Oh, he needs to let go of his dead mom's locket? IT'S A METAPHOR FOR LETTING GO! DURRR) Another thing this movie has going against it is that the lead actress is at the age where I cannot tell if I'm supposed to be attracted her. One thumb up/Visit from Chris Hansen
Catch Me if You Can – Tom Hanks just seems like the nicest guy in Hollywood. I give him two thumbs up, and I want to hang out with him. Call me.
PS I Love You – This movie is the bombBill Murray and Dan Aykroyd at their finest, a killer soundtrack and pretty good special effects! I aint afraid of no ghost! Three thumbs up! Wait, sorry, I was thinking of Ghostbusters. This movie fucking blows. Two thumbs down.
Well it looks like that's all the space we have. I know we missed some movies, but I guess the Duel cut me off so they could print yet another dick joke.
Mr. Wutterbottom has a Ph.D. and a Masters Third Degree Burns from the University of Fireworks Accidents. He will return to write for the Duel once/if the skin grafts take.