This past Sunday night, the most important event in recent space exploration took place as NASA's Curiosity rover successfully landed on Mars. Curiosity's success shows that NASA can still get stuff done, and the rover promises to reveal unprecedented information about the Red Planet and maybe even provide insights into the origins of life. The other big event of the evening was Usain Bolt's defense of his title as the Olympic 100 meter champion and the fastest man alive. Both of these events were awesome in their own unique ways. A good night for everybody, right?
"Wrong!" declared some people from their nerdy high horses. This image was making its way around the Internet, mostly on tech and science blogs. The blog Gizmodo in particular took issue with the apparent favoring of sports over science.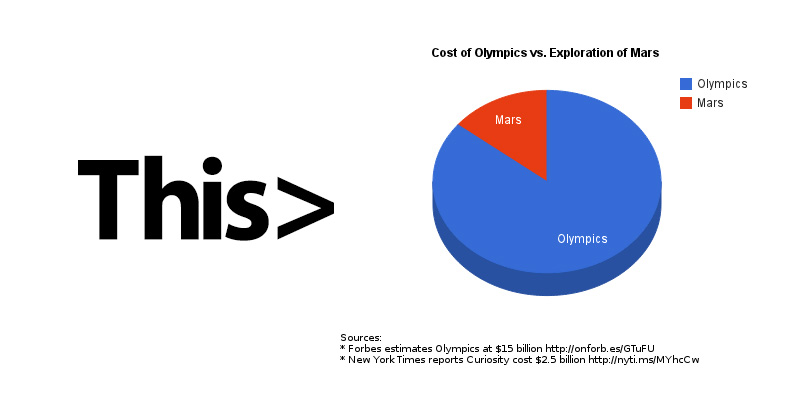 Let's first examine the actual claims being made in this graph. Curiosity cost $2.5 billion, which is a shockingly little amount given the scope of the project. Anybody who claims that Curiosity is a waste of taxpayers' dollars fails to see both the potential for discovery that it offers and the scope of our federal budget. I am not here to bash NASA, far from it. It's just that the idea that science and the Olympics are a zero-sum game is ludicrous.
The graph cites a Forbes report claiming that the cost of the Olympics is equivalent to $15 billion, three times more than the initial estimates, and significantly more than was spent on Curiosity. Well, in addition to being outdated, (the cost has been more recently estimated to be closer to $20 billion*,) it compares apples to oranges. The United States did not pay that $15 million, Great Britain did. By comparing the two without clearly labeling them, a false equivalency is created. It could be argued that, had New York gotten the 2012 Olympics, America would be fronting the bill. That's not the impression that the graph is trying to give, and besides that, it's really a moot point.
The money spent on Curiosity and the money spent on the Olympics are clearly not mutually exclusive. They're not even from the same pool of money, let alone currency. Given that both Bolt and Curiosity captured the imagination of millions on Sunday night, I think there is room for science and sport. The $15 billion Great Britain spent on the 2012 Olympics was not money that would've otherwise gone to NASA. If you want to compare our under-funded sciences to what you view as wasteful spending, it's helpful to first get the country right. Beyond that, there are plenty of other comparisons to be drawn. The defense department has a budget of $695.7 billion. Maybe we can shuffle a little money around there?
The disparity in money is not the problem that this comparison makes it out to be. Yes, there should be more money spent on space exploration and science. That money does not need to come at the expense of an event from antiquity, one that has existed in its modern form for over a hundred years. The Olympics are imperfect. They've become overly commercialized, hugely politicized, and even corrupt in certain places. But there is still a tremendous importance to the Olympics. It is not fair to ask, as tech blog Gizmodo did, if you would "rather know the origin of life or watch people run faster than others."
Excuse me? What really matters more, and to who? Curiosity is going to discover amazing things, no doubt. But was a landing that may yield scientific marvels down the road really more important to the people of Grenada this week? On Monday, 19-year-old Kirani James won the first medal ever for his Caribbean nation when he took gold in the 400-meter dash. The entire island was ecstatic, proud of their country and the accomplishments of this young man.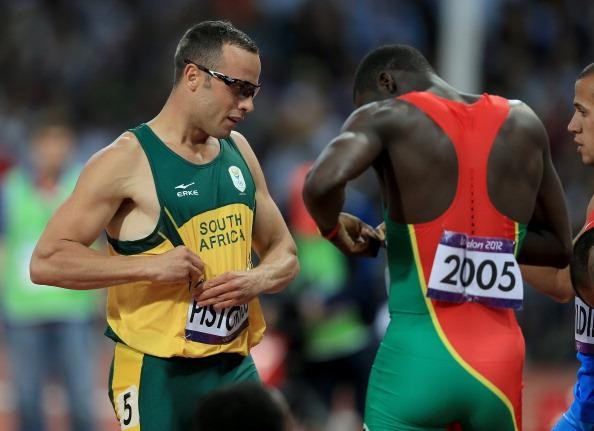 Was it more important to those inspired by double amputee Oscar Pistorius' history making run in the Olympics? (Not to mention the tremendous showing of sportsmanship and mutual respect displayed after the 400m semifinal, when James exchanged bibs with Pistorius.) Note: I take it all back now that he's accused of murdering his girlfriend.
Or, when Liu Xiang, the Chinese hurdler who had been the favorite to win was felled by an Achilles injury? After limping to the final hurdle to symbolically kiss it, his fellow competitors helped him off the track.
How about the Saudi Arabian women who are a beacon of hope and change as they compete in the Olympics for the first time in history? Moments like these are why the Olympics endure.
Does the appreciation of these moments mean we're incapable of also appreciating scientific breakthroughs? Of course not. Gizmodo's article closes by asking, "Science and technology or bread and circus? Where do you want to see your dollars go?" It's a wrongheaded, biased and insulting comparison. Curiosity's landing is monumental. It's hugely important, but it's not the only thing in the world. (Err… Mars, rather.)
In 2008, an estimated 70 percent of the world's population watched some part of the Olympics.** That's 4.7 billion people. The Olympics reach broader audience, and to many are more important than an American mission to Mars. Every Olympiad virtually every nation of the world competes, not through war, but through sports. We see amazing instances of sportsmanship between competitors. We see people of every creed, color, and nationality striving for excellence – whether it's the fastest time, a bullseye, or a perfect score. The Olympics entertain the entire world, and give everyone someone to cheer for, and something to be proud of.
I think there's room for that and exploring the final frontier.
*http://www.marketplace.org/topics/world/london-2012/brits-worry-if-cost-olympics-worth-it
**http://blog.nielsen.com/nielsenwire/media_entertainment/beijing-olympics-draw-largest-ever-global-tv-audience
 Originally published  Tuesday, August 7, 2012