The other day I was looking around the iTunes store because I actually pay for my music.  (Well, most of it anyways.) I checked out their free offerings. Every once and a while they will have a free pilot of a TV show or something available for download. I found an incredible gem.
Yes, the complete first episode of Mighty Morphin Power Rangers. My inner four-year-old freaked out. For those of you who don't remember much about this seminal pop-culture phenomenon, Mighty Morphin Power Rangers was an American TV show that used special effect scenes from the Japanese shows Kyōryū Sentai Zyuranger, Gosei Sentai Dairanger and Ninja Sentai Kakuranger, and shot original scenes with American actors when they were out of costume. This means that having the Yellow Ranger be the Asian one wasn't so much racist as it was accurate to the source material. It was a crazy show full of cheap special effects, bad acting, and gratuitous violence that kids loved and parents protested against in vain.
Watching this amazing celebration of the Nineties and my childhood got me thinking about the present. What are all the original Power Rangers doing today? In lieu of looking for a job, I did some research. I warn you, some of these stories are tragic.
Amy Jo Johnson – The Pink Ranger
The Pink Ranger probability has done the best out of all the Rangers. Amy Jo Johnson has the good fortune of looking exactly like Jennifer Garner. Actually, Johnson is a year older, so I guess Garner has the good fortune to look like the Pink Ranger. She has gone on to be a fairly successful television actress.
She went on to star in a bunch of TV movies, was a main character in the show Felicity, and has had a bunch of random guest starring roles on a host of TV shows. She was the lead in Perfect Body, a Lifetime original movie about an anorexic gymnast that I watched in 8th grade health class. It was oddly watchable. More recently she has a starring role in the CBS show Flashpoint, as Jules Callahan. Amy Jo Johnson certainly is the Ranger with the highest profile, and there's a good chance you've seen her in something.
Austin St. John – The Red Ranger
The Red Ranger seems to be doing okay. I couldn't find a ton out about him, other than it seems like Austin St. John is probably the most normal of the Rangers. According to his official website, he is an EMT paramedic and firefighter on the east coast, all of which I find very fitting. He seems to still be big into martial arts, and, holy shit, the Red Ranger can speak four languages. (English, Spanish, Italian, and Korean.) That's both surprising and impressive.
Austin St. John never really attempted to go into acting, though he still is apparently close with the Power Rangers Fandom. He, along with a couple other Rangers still go to Power Ranger conventions. He also has the most recent appearance on Power Rangers of the original five, as he, along with the Green Ranger Jason David Frank were guest stars in a 2002 episode of Power Rangers: Wild Force in which all ten of the past Red Rangers teamed up. (Apparently the Green Ranger became a Red Ranger at some point. I don't know.)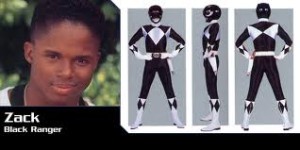 Walter Emanuel Jones – The Black Ranger
Like Amy Jo Johnson, the former Black Ranger has a little acting career going for himself nowadays. It is a little less glamorous than hers. He has had some random roles and been in some commercials, but it's doubtful that you would've seen or recognized him. More recently he's been doing some voiceover work, including one of the main characters in the video game Freedom Fighters.
His biggest acting role since Power Rangers was one of the leads in a straight-to-video flick called Backyard Dogs, about two friends who try to get into wrestling by entering underground backyard matches. This movie is notable because for a time it was the worst movie on all of IMDB.  One IMDB reviewer called it "worse than Hilter," and another noted that it is "so bad I think it might just qualify as obscenity." In 2007 IMDB changed their "bottom 100" rating system to exclude straight-to-video movies, but starring in one of the movies that is on the shortlist for the title of worst-of-all-time is something that he'll probably never live down.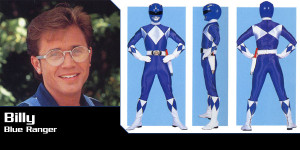 David Yost – The Blue Ranger
David Yost's Blue Ranger had the longest tenure of any of the original five Rangers, but he left the show in 1995. Originally it was thought to be because of a dispute over pay, but Yost revealed in 2010 that he was driven to leave the show because of the homophobic harassment by the shows' crew and producers. The crew called him a faggot and told him that he could not be a superhero because he was gay.  After leaving the show he went through conversion therapy to get rid of the gay, but he eventually had a nervous breakdown and was hospitalized for five weeks.
Things eventually got better. Yost moved to Mexico for a year and accepted his homosexuality. He has shifted from acting working behind the scenes producing and licensing properties. He seems to be doing pretty well now, but it's still pretty upsetting and disgusting that he went through what he went through. Power Rangers seemed a lot simpler when I was five.
On a side note, if the Blue Ranger made an It Gets Better video it would be sweet.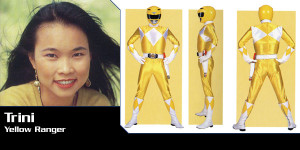 Thuy Trang – The Yellow Ranger
Thuy Trang played the Yellow Ranger for the first season and a half of Mighty Morphin Power Rangers. She, along with Austin St. John (Red) and Walter Emanuel Jones (Black) left the show halfway through the second season due to contract disputes. After Mighty Morphin Power Rangers Trang had a various smaller roles, among them a manicurist in Spy Hard (an underrated movie, IMHO,) and as one of the lead villains in the sequel to The Crow.
Sadly on September 3, 2001 Trang was killed in a car crash. She was 27. Trang was to be a bridesmaid in the upcoming wedding of her friend Angela Rockwood. Trang and Rockwood were passengers in a car driven by another bridesmaid as the three returned from visiting the prospective maid of honor. The driver lost control of the car and it crashed, flipping several times. Trang was killed in the crash. Rockwood survived, but suffered a broken neck and spine, and was initially a quadriplegic, though by some miracle she was able to regain almost full use of her upper body. She's now one of the stars of Push Girls, a show on the Sundance Channel about sassy and strong paraplegic women.
All of the original Power Rangers actors (except for the Green Ranger) attended her funeral a week later. The next day was September 11th.  This is all really, really depressing.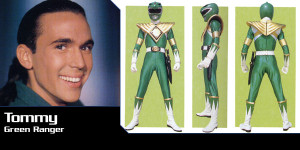 Jason David Frank – The Green Ranger
The Green Ranger did not appear in the first episode of Might Morphin Power Rangers, but for the sake of completeness I googled him too. What has Jason David Frank done since Power Rangers? Well, for a while the answer was MORE POWER RANGERS! His character Tommy, the Green/White/Red/Black Ranger is the longest lasting character in the Power Rangers franchise. He was in some version of Power Rangers from Mighty Morphin in 1993 to 2004's Power Rangers Dino Thunder.
Like most of the Rangers, Jason David Frank was really into martial arts. Apparently he's pretty good at them. He's now a professional mixed martial artist, and he is undefeated. He only has one match to his name, but he would totally kick my ass.  I've got to admit that I think it's cheating that he gets to summon his Dinozord mid match. Seems kind of unfair.
So that's what the original six rangers have been up to. The heroes of your mid-nineties youth have grown up. Some went on to be successes, some ended in tragedy, and some of them did pretty okay. It's almost like a post-grad twentysomething could find some kind of metaphor for life there. Oof – all of the sudden this became way more deep than I expected it to be. I spent all day researching the freaking Power Rangers for some reason. If anybody wants to find some deeper significance to all this then power to them. Otherwise, enjoy your daily dose of nineties nostalgia.
Originally published Monday, September 10, 2012