Are you glad that the 2012 presidential race is over? Ready for the constant political talk to go away? Well too bad, because it's already time to start worrying about the next election. Pundits are already making their picks of possible candidates in 2016, but not me.
No, I'm looking way beyond 2016, because I've got a secret weapon. I made myself a clone of Nate Silver by combining stolen genetic material and a high school statistics textbook. I'm calling him "Sate Nilver." Now I'll admit that Sate is a little… off. When I pulled him out of his cloning vat, the first thing he did was do some math in his head, then point at me and say "3:42 PM, June 24, 2029. Bus crash." I have no idea what he meant by that, but the rest of his predictions have been spot on, so I had Sate tell me who was going to win some presidential elections from the far future.
2020 – The winner of 2016
The winner of the historic 2020 election will be whoever wins the 2016 election. He or she will easily win reelection in a landslide, and continue his or her policies much to the chagrin of the loosing Democrats or maybe Republicans. I told you, I'm not making 2016 predictions because they're beneath Sate Nilver and my skills.
2024 – Mecha-Paul Ryan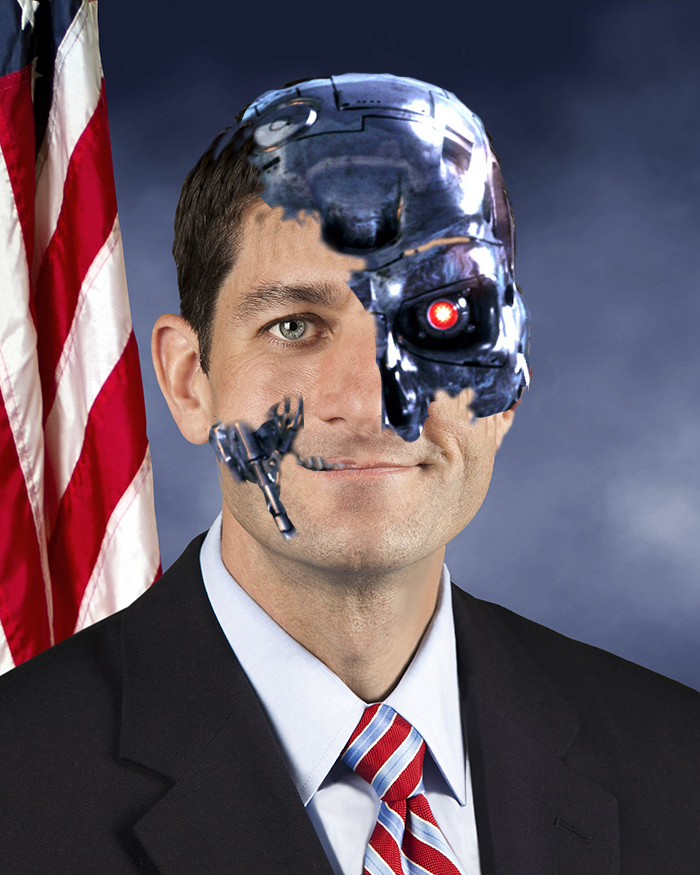 Having cut every bit of spending from his budget plan and ever ounce of fat from his diet, Paul Ryan found that P-90X could only take him so far. Determined to increase his potential, Paul Ryan turned himself into a highly advanced cyborg, able to bend steel with his bare hands in addition to his natural ability to bend the truth. Mecha-Paul Ryan was built in a factory in Ohio, allowing him to easily take this crucial battleground state and win a seat in the White House. Tragically, Mecha-Paul Ryan's presidency will be cut short, as he catches a computer virus upon a visit to a Nigerian embassy, crashing his programming.
2028 – Ron Paul
Ha. Just kidding. Keep dreaming, ya nuts.
2044 – Grover Cleveland.
As if he hadn't already screwed up the numbering of the presidents enough, Grover Cleveland will take his seat in the oval office again for a third non-consecutive term in 2044. Cleveland, a man whose ego and love of repeated self-portraits knew no bounds, will win the election despite having been dead for 136 years.  He will then resign, and then reaccept the office of the presidency every other day, further screwing up the numbering. Grover Cleveland is an asshole.
2056 – Squeaky the Dolphin
Having learned to speak people in 2049, dolphins will become an integral part of American society, though the only reason they don't violently overthrow us is due to their lack of opposable thumbs. Despite the underlying animosity, president Squeaky will be go down in history as one of the best leaders our nation has ever had. There will be fish for everyone, and we won't even need to jump through any hoops to get it! Squeaky's presidency will have only one blemish on it; a bloody and costly war against the Japanese launched in retribution for The Cove.
3012 – Glorblaxx the Destroyer of Worlds
Glorblaxx the Destroyer of Worlds will take the presidency not so much by a democratic election, but as a result of violent war and disintegration rays. He will be the first president born outside of the United Sates/Milky Way Galaxy. Normally, this would require a Constitutional amendment, but Glorblaxx's bloodlust is above such petty laws. Glorblaxx will occupy a brand new White House, they original having been destroyed by laser beams. The new one will also be white, on account of it being a massive pile of human skulls.
1789 – George Washington
According to Sate Nilver's calculations (remember, math,) time is cyclical. Therefore I can say with absolute certainty that George Washington, having seen America through tyrannical British colonization, revolution and the heat death of the universe, will be president. This will be Washington's infinity-th time as president of the greatest nation ever to exist in our pointless repeating world.
I hope you enjoyed Sate Nilver and my predictions. Now you can feel free to ignore any presidential race coverage for the rest of your life. You're welcome. Now if you'll excuse me, Sate and I are going to a bookie.