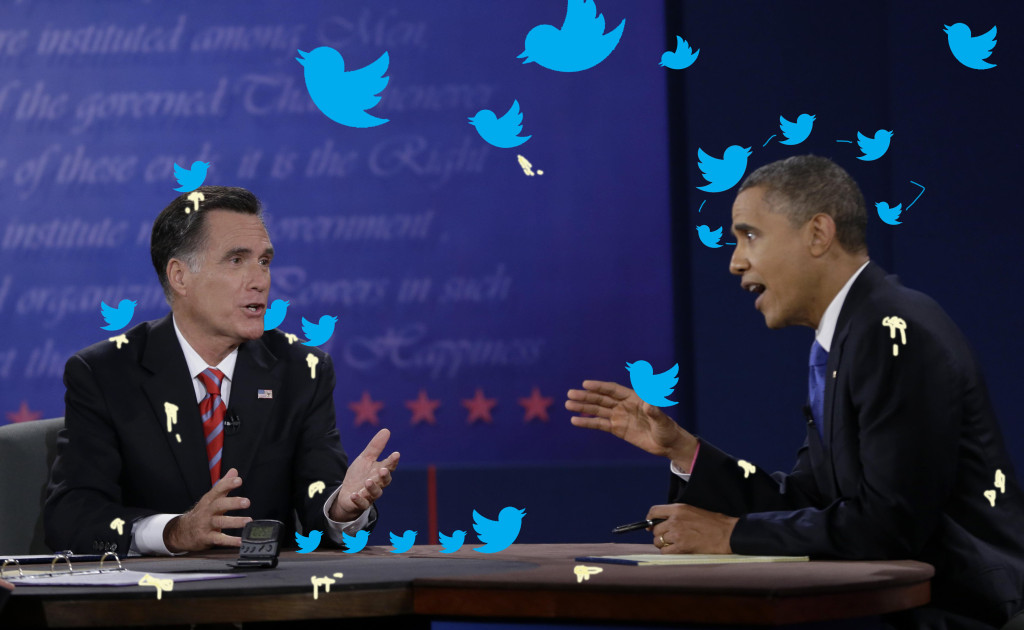 I'm really sad that the debates are over. I followed the same game plan for the three presidential debates and the vice presidential debate. My friend came over for a debate watching party/drinking game. We sat on a couch, multiple screens at the ready and started to watch/live tweet/be American.
Guys, we all Twittered the hell out of these debates. The first debate was the winner, as it saw 10.3 million tweets. The second 7.2 million and the third, facing stiff competition from sports (go SF Giants!) still pulled a respectable 6.5 million. The VP debate prompted 3.5 million tweets. There was a lot of partisan spinning, great fact checking and real time analysis, and a bunch of people trying their darndest to be the next Jon Stewart.
My favorite aspect of this political cycle's effect on Twitter is the rise of the reactionary meme parody accounts. Starting really with @InvisibleObama during the Democratic National Convention, pretty much every major political event has seen a new parody account rise up. I'm 100% convinced that this Onion article –Savvy Man Registers Sleepy Romney Twitter Account – is completely accurate.
The star of the first debate was, without a doubt, Big Bird. Shortly after Mitt Romney declared jihad on Big Bird, multiple parody Twitter accounts arose. @SadBigBird, @BigBirdRomney, and @FiredBigBird took flight that night. @BigBirdRomney has a little fewer than 13,000 followers today. The puppeteers behind @BigBirdRomney (see what I did there?) have since used the relative popularity of their meme to raise awareness for the conflict in Syria, which is admirable.
The big winner was @FiredBigBird, which reinvented itself during each debate. It changed its handle to @MalarkyJoe during the VP debate, dubbed itself @RomneyBinders during the second debate, and it currently exists as @Horsesbayonette. @FiredbigBird even survived a couple temporary shutdowns by Twitter, apparently having unintentionally triggered some spam sensors. Later debates saw @JoblessJeremy, @LaughingBiden, and I'm sure that there were tons more that I missed. I'm only one man.
It's interesting to see which parody accounts go viral and which ones fall flat. Some, like @InvisibleObama and @FiredBigBird/@RomneyBinders/@Horsesbayonette get tens of thousands of followers, while others, like @BidensMalarky, do not. (@BidensMalarky has two tweets, follows zero people and has zero followers. I'm not sure what's sadder, that, or the fact that it's making me sad.) Interestingly, it seems that traditional media had a lot to do with the propagation of these. Fifteen minutes after @InvisibleObama made himself, if not seen, then heard on Twitter, the account had been mentioned by Salon, Mental Floss, The Washington Post's The Fix, and Ezra Klein. They made @InvisibleObama visible to their combined one million followers, giving him a great head start. @BidensMalarky apparently, did not.
Now that these accounts exist, and many of them have thousands of followers, it's going to be interesting to see what their endgame is. The following tweet is my favorite thing I saw during any of the debates. It happened in the third debate, right after Obama's horses and bayonets burn. Instantly, Twitter blew up. The line inspired 105,767 tweets per minute, the peak of the third debate. Instantly, people rushed to make the defining parody twitter account. It looks like @Horsesbayonette (nee @FiredBigBird) may have won the 15 minutes of fame crown, but it was another account that really worked for me. It only had two tweets, and the account was deleted within a half hour, (luckily I got a screen grab,) but it summed up everything about the debates, memes, and Twitter.

 Amazing.
* * *
The debates and the accompanying Twitter commentary made for terrific entertainment, but is that a good thing? When the majority of the immediate reaction is to see who can be the funniest comedian (I'm pleading guilty,) is substantial analysis thrown aside? Memes are certainly not high discourse, and it frames the narrative as a discussion about Big Bird, binders and bayonets instead of the actual issues behind them. I don't really have an answer here. It's not great news, but it's nothing new. Campaigns have long been more about style and the narrative then they've really been about substance. Twitter is, perhaps unwittingly, helping to shape the narrative of the debate before it's even over in a way that people haven't been able to do to the same extent. Trending topics go beyond a hashtag and become front page news and watercooler talk.
I think that I'm okay with it. It would have taken a hell of a bombshell for the debates to change my vote,  so I guess I was watching at least in part for entertainment purposes. The empty six-pack of Brooklyn Lager my friend and I polished off lends some credence to this. Also, though it has its faults, satire is a great medium for information if you're able to unpack it. That Onion article make have been a joke, but it was frighteningly true. These parody memes are speaker to some deeper truth, whatever that may be.
Finally, they say humor is a great way to cope with tragedy and stress. Have you been watching this election? Long live the parody Twitter account!
 Originally published Tuesday, October 23, 2012